Junk Removal in
Yukon
Same/Next Day junk removal available anywhere in Yukon! Just point and your stuff will be gone.
Learn about Junk Removal in Yukon
Have you finally decided it is time to purge your home of junk? Do items seem to add up over time? Have you found yourself storing old furniture, electronics, and other stuff you never use?
Then Junk Platoon is here for you with our Yukon junk removal services. If you find yourself swamped in junk, Junk Platoon can help you get rid of your unwanted items. In addition to general junk, we also remove construction debris, yard waste, hot tubs, and more.
If you are ready to get rid all of that excess stuff, Junk Platoon is here to help. We provide full-service junk removal in Yukon including house and apartment clean outs.
Skip the franchises that send their profits out of state and choose your locally-owned veteran junk removal service instead. Junk Platoon is owned by a 21-year Air Force veteran.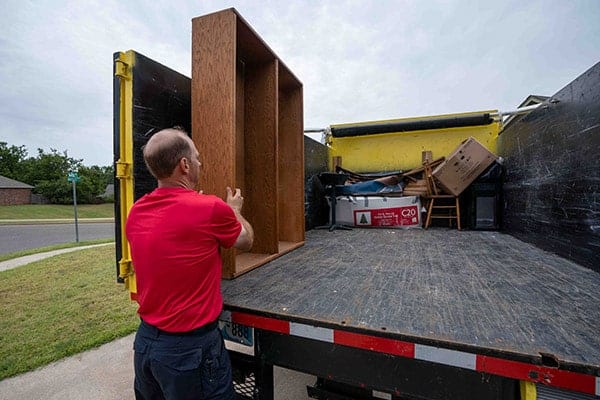 Full-Service Junk Removal
Junk Platoon provides junk removal and hauling services in your Yukon neighborhood and is committed to making your junk removal experience an easy one. That's why we tend to every detail of the job…our goal is to delight and surprise (not simply satisfy) you.
You Point. The only thing you have to do is show us what needs to go!
We Remove. Our team will remove items from anywhere in your home, business or apartment.
We Load. Then we'll safely load everything into our truck.
We Haul. Finally, we haul it all away for recycling or disposal.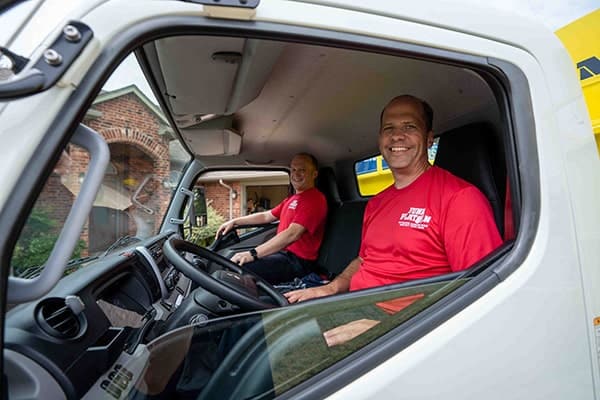 Fast Service
Junk Platoon won't leave you hanging around! We're ready to answer the call of duty!
Simple Booking. Use our Book Now feature or call (405) 900-8387 to schedule your appointment.
Same & Next Day Junk Removal. We can get to you when you need us…even as soon as today. Plus we'll even give you a courtesy call when we're on our way so you're not surprised when we get there!
Efficient Service. Once you've shown us what needs to go, we'll give you a firm no-obligation quote and then – if you agree – we'll haul your junk away in no time!
Book Online Now
To Save $20
Veteran-Owned Junk Removal Service
Junk Platoon is a local company that's owned and operated by a 21-year Air Force veteran family!
We serve residents and business owners in Yukon and the entire Oklahoma City Metro area.
We promise to provide you the highest quality service in the area! Our goal is to surprise and delight you, not just satisfy you.
Things We Take
A full collection of the junk removal items we take includes:
Things We Leave
Some items are too messy or hazardous for us to remove. That includes items like:
Car fluids like oil and antifreeze
Herbicides and pesticides
Any other hazardous materials
Items located in dangerous areas
Items too massive to lift safely
Book Online Now
To Save $20
Veteran-owned Junk Hauling and Removal