Full-Service Oklahoma City Junk Removal and Hauling
SERVING THE OKC METRO INCLUDING EDMOND, YUKON & MOORE
How Our Junk Removal Service Works
Schedule An Appointment
Call us today or use our online booking tool to schedule a time that works for you.
You'll Always Know When To Expect Us
We schedule in convenient 2-hour arrival windows, so you'll know when to expect us.
We Arrive Ready To Go
Our crew of veterans will arrive prepared and ready to work!
If You Want It Gone, It's Gone!
We can haul almost anything you ask us to! Show us what goes and we'll take it from there!
We'll Leave Your Place in Great Shape
Junk Platoon always sweeps up any debris or mess left behind by your junk.
Settling Up Is Easy
We accept most major forms of payment, so squaring up is hassle-free.
Reviews
They were professional, excellent quality they helped me move things around and very respectful. I would recommend these gentlemen with anything you need to be moved. I will doing bussiness with them again their names were Todd and Justice thank you so much for your help.

Junk Platoon answered my call in a friendly, courteous manner and gave me excellent information. I asked if they could come out sooner and they made it happen! They sent a text reminder with a 2 hour window for arrival. Todd called and came out quickly and on time, gave me a reasonable quote, did the work quickly, efficiently and then came in under the quote! Thank you so much for the help, Junk Platoon!

Todd and Justice were professional, courteous, and they quoted a fair price. They were on time and thorough. Really nice job. Really nice guys. Highly recommended.

Showed up right on time. Pricing up front and reasonable. Todd and Justice were fast and friendly. Whole process was great!

I had a little junk build-up in parts of my yard that I needed help removing (metal, wood, pipe, sticks, rock and tires). These guys did a great job! I truly needed and appreciated their help. Thanks Guys!

Junk Platoon did a fantastic job removing an old piano for me! Todd and Isaac were very professional, efficient and courteous. I will definitely call them if I need this type of work to be done again!!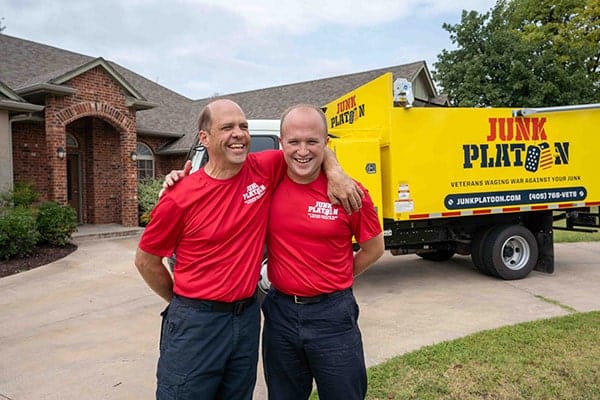 The Junk Platoon Difference
Here at Junk Platoon, our mission is to serve God, delight our junk removal service customers and empower veterans returning to civilian life after their service.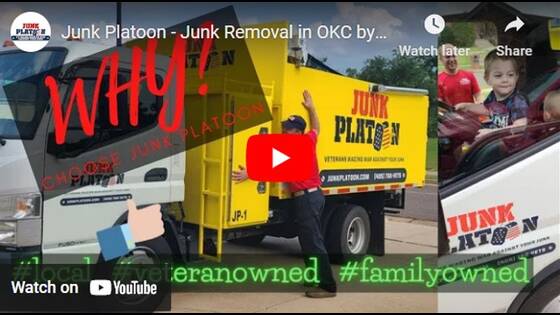 Book Online Now
To Save $20
Book Online Now
To Save $20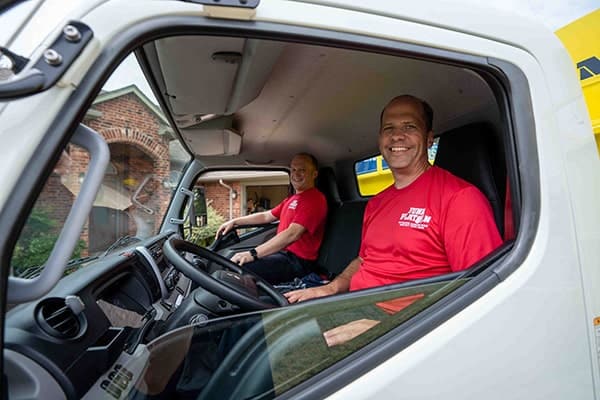 OKC's Best Junk Removal & Hauling Service
We are veteran owned and operated.
Junk Platoon is a locally-owned business that serves the Oklahoma City metropolitan area.

We can serve you within 24 hours of your call and you can always depend on us to get your mission accomplished!
Veteran-owned Junk Hauling and Removal
Scheduling Your Junk Removal Service is Quick & Easy
Same day and next day junk removal appointments available in Oklahoma City. Junk Platoon is locally-owned by a 21-year Air Force veteran. Just call 405-900-VETS or email [email protected]!