Moore
Junk Removal
Junk removal in Moore gets done "Moore" quickly when done by your veteran friends at Junk Platoon!
Full-Service Junk Removal in
MOORE
Need Moore junk removal, but don't know which business to choose? Skip the overpriced franchises and come to your local, veteran-owned solution instead: Junk Platoon.
Full-Service Junk Removal Near You
Junk Platoon provides full-service junk removal to service areas all around, including your very own Moore. We'll do the heavy lifting, so forget your junk-related worries and let us do the hard work for you!
Our Junk Removal Offerings Include: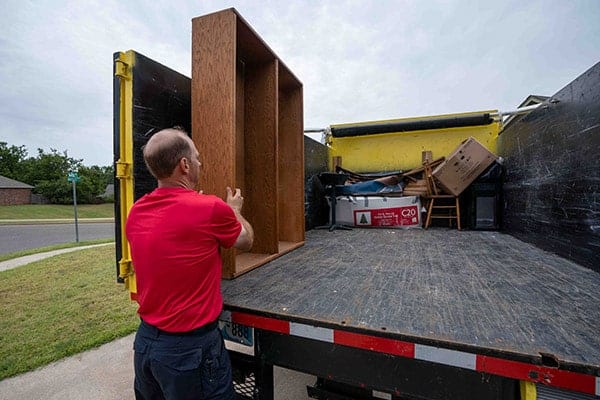 How It Works
The junk removal process gets done right by the veteran professionals at Junk Platoon. Learn about how it works and see how the guys on our team make a difference for you by working hard and keeping prices fair.
2-hour arrival windows. We always show up on time and get it done the same day.
Prepared for work. We bring the right tools and mindsets for any job.
Friendly. Our team enjoys doing work for our clients and is all smiles.
Focused. We work hard and minimize downtime to get it done fast.
Cost of Moore Junk Removal
Why overpay for franchise junk removal when your local team can cut you a deal?
Choose Junk Platoon, Save Money!
Our volume-based pricing means you pay for what we haul and nothing else.
Accept our upfront quote to get started. The price won't change afterwards.
No hidden fees with us. We don't play dirty tricks on you.
Get a no-cost estimate from us before you even schedule your appointment!
It's Easy to Schedule
Scheduling an appointment with Junk Platoon is simple! We aim to Serve, Delight, and Empower, so let us give you a great first impression as you get your Moore junk removal in the books. You'll love our friendly personalities as we work with you to find the best time for your appointment.
Give us a ring. One of our reps will promptly answer.
Get an estimate by telling us details about what you need hauled away!
Like our quote? Then why not pick a day for your appointment?
We'll give you a 2-hour arrival window. Know when to expect us.
Our veteran crew will be there before you know it!
Veterans Waging War Against Your Junk
Junk Platoon means it when it comes to making a difference in our communities. One of our biggest goals, aside from pleasing our clients, is reducing veteran unemployment. That's why we feel so strongly about our team of retired service members. It's also why you can count on us to to have the discipline and work ethic to be on time and ready to work, no matter the job.
So when it's Moore junk removal you need, don't hesitate to reach out to us. Our guys are always ready for the next job, whether it's big or small. We'll haul all that junk away to our truck, then cart it off for recycling, donation and disposal.
Book Online Now
To Save $20
Book Online Now
To Save $20
Local Junk Removal & Hauling Services