Warr Acres
Junk Removal
Need junk removal in Warr Acres, OK? Then Junk Platoon is the right team for you.
Full-Service Junk Removal in
WARR ACRES
In Warr Acres, we're going to war against junk. Junk Platoon is the junk removal company of choice for many clients all across our service areas, and you could be our next happy customer. We do professional, full-service junk removal for an honest price that beats the competition.
Warr Acres Junk Removal Near You
When junk piles up in your home, business, or other property, it's important to get a junk removal team on site, and fast! Fortunately, our team is exactly what you need to handle even the most stubborn of junk items.
Junk Platoon to the Rescue
From furniture and appliances to hot tubs and yard debris, we can haul all of your junk.
Don't worry about any late arrivals. Our team always shows up on time.
No job is left half-complete with our crew. We get it done right the first time.
On top of everything else, we're friendly and love to get to know our clients!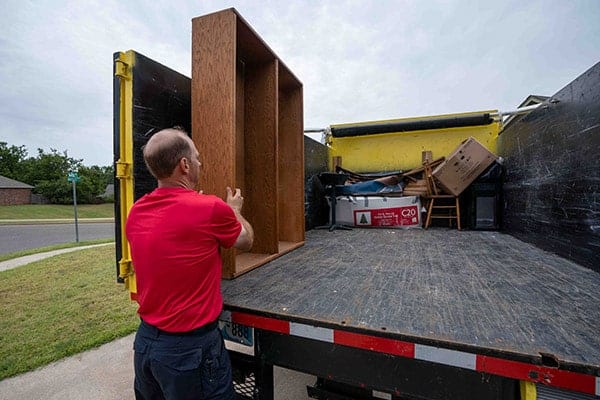 Cost of Warr Acres Junk Removal
An important factor to consider when choosing a junk removal business is the cost of their services. We're happy to report that here at Junk Platoon, our prices are fair, straightforward, and perhaps best of all, affordable.
Junk Platoon Pricing
Before any junk removal job, we provide you with an upfront quote and our all-inclusive price tag for the job. Once you agree to this quote, the price is permanent. No hidden fees!
Our jobs are priced according to volume. In other words, the amount of junk hauled determines the final price. It's simple to understand and guarantees you a fair price.
Looking for an over-the-phone estimate? No problem. We're happy to provide one to you. Simply call us at

(405) 900-8387,

and a crew member will connect with you.
Here's How to Schedule
There are two ways to book your Warr Acres junk removal: calling us, or booking online.
Call Us Now!
Call us and start speaking with a team member! We're happy to answer any of your questions.
Get a cost estimate, then find an appointment day and time that works for you.
We'll follow up with a 2-hour arrival window you can expect us within.
Book Online!
Booking online is easy thanks to our website's streamlined contact form.
Just fill out your details, pick an appointment time and day, and you're all set!
During Your Appointment
Junk Platoon works hard and stays focused to deliver a positive junk removal experience to you. We won't goof off on the clock like the "other guys." Instead, we work fast so you can get back to your day-to-day life.
Here's How It Works:
After you approve our quote, we get straight to hauling junk.
Load after load, we take all the clutter to the back of our truck.
Once we're done, we'll ensure we got everything you wanted gone.
Then, we'll even sweep the floors behind us. It's our courtesy.
Finally, pay your dues, and that's a wrap!
The Veteran-Owned Junk Removal Company
Junk Platoon was founded by veterans and maintains the goal of reducing veteran unemployment in our surrounding communities. When you support our business, you're supporting a great cause – and not only that, you're helping support your local economy, too! Trust us, we know how to do some hard work. No matter the job you've got for us, we're ready to take it on.
Junk removal in Warr Acres, OK doesn't have to be expensive, either. We can cut you a deal that the franchise businesses can't compete with. It's a win-win situation for you and us!
Book Online Now
To Save $20
Book Online Now
To Save $20
Local Junk Removal & Hauling Services