Full-Service Oklahoma City Junk Removal and Hauling
SERVING THE OKC METRO INCLUDING EDMOND, MOORE & YUKON
How Our Junk Removal Service Works
Schedule An Appointment
Call us today or use our online booking tool to schedule a time that works for you.
You'll Always Know When To Expect Us
We schedule in convenient 2-hour arrival windows, so you'll know when to expect us.
We Arrive Ready To Go
Our crew of highly-trained veterans will arrive prepared and ready to work!
If You Want It Gone, It's Gone!
We can haul almost anything you ask us to! Show us what goes and we'll take it from there!
We'll Leave Your Place in Great Shape
Junk Platoon always sweeps up any debris or mess left behind by your junk.
Settling Up Is Easy
We accept most major forms of payment, so squaring up is hassle-free.
Reviews
Junk Platoon is respectful, reliable, and make big jobs easy! We are return customers who like supporting the local business! Todd and Jerra were so kind and helpful and provided prompt and easy communication. We highly recommend their service and cause! Call Junk Platoon for all your disposal needs! (11-22)

Excellent company!; Clear communications–called ahead to confirm appointment time as promised; Arrived on time; Finished the job and made sure that I was satisfied with it; Reasonable pricing with a clear and firm estimate. Thanks Todd and Ryan for outstanding work. Will most definitely call Junk Platoon again when I have another round of yard waste or other junk removal. Everything you would want in a business transaction!! (06-22)

I was in a bind and needed fast, good, and a ton of work done. I had an entire house clean out, including the garage and back yard. Kay scheduled the appointment and she was very polite, understanding about my situation, and knowledgeable. Todd came with his helper and the 2 of them worked hard all day long. All day. It took a day and a half to get it all out and gone and it was worth it. I can't say how much I appreciate all their efforts! Thanks for everything, you will always get my recommendation going forward! (08-22)

Worked with Jerra and Braden. Very professional and courteous. Timely, in fact they showed up early and I wasn't prepared. Quick quote, and they were out the door; careful to not damage walls or anything else I owned. I would definitely work with them and this company again. (09-22)

Arrived on time (per the previously requested the time frame). Our Junk Platoon workers were very courteous, professional and friendly. It isn't a problem for them, when they arrive, to give additional quotes for anything you forgot during your initial call. They were very quick in getting everything removed. All in all, a great experience. We will definitely be using them again in the future. Thanks guys! (09-22)

I called Junk Platoon and Todd & Braden were there within hours to pick up and haul away my stuff!
It was a quick and very pleasant experience! We will use them again in the future. (09-22)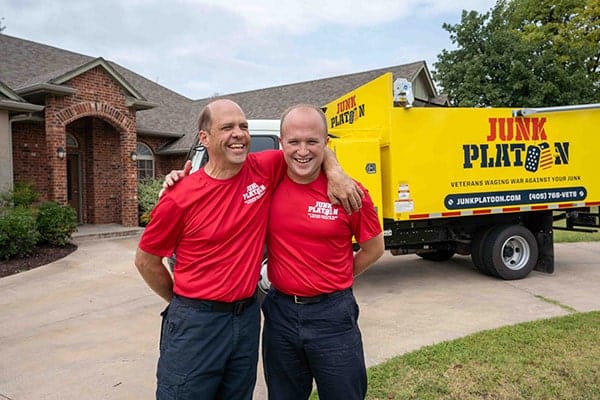 The Junk Platoon Difference
Here at Junk Platoon, our mission is to serve God, delight our junk removal service customers and empower veterans returning to civilian life after their service.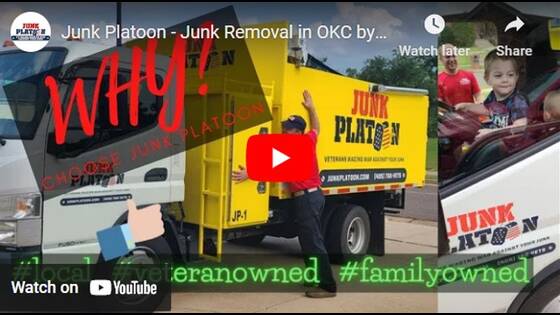 Book Online Now
To Save $20
Book Online Now
To Save $20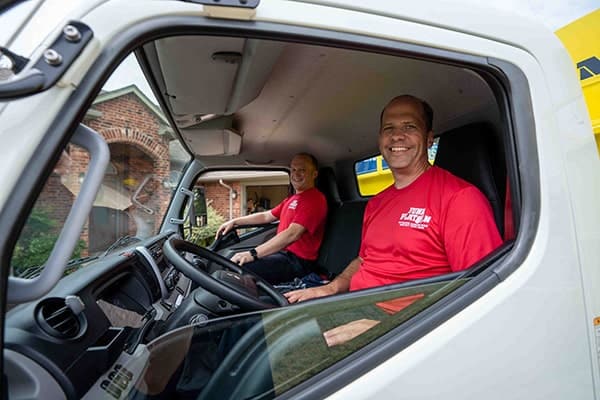 OKC's Best Junk Removal & Hauling Service
We are veteran owned and operated.
Junk Platoon is a locally-owned business that serves the Oklahoma City metropolitan area.

We proudly offer junk hauling services to

OKC, Edmond, Bethany, Midwest City, Del City, and more!

We can serve you within 24 hours of your call and you can always depend on us to get your mission accomplished!
Veteran-owned Junk Hauling and Removal
Scheduling Your Junk Removal Service is Quick & Easy
Same day and next day junk removal available in Edmond and the Oklahoma City metro. Junk Platoon is locally-owned by a 21-year Air Force veteran. Just call 405-900-VETS or email [email protected]!
Junk Platoon can haul away just about anything
As long as it isn't hazardous and two people can carry it, we'll make quick work of it. If it isn't listed here, give us a call because we can probably do it.